A winning bar menu? K.I.S.S.
19/05/2022
When it comes to designing a great menu, a bartender could make it pop with crazy ingredients and concepts. But, Elon Soddu suggests that mainly it should be easy to understand by guests.
Where do you work?
At the moment I work as a consultant.
Tell us something about yourself.
I was born in Italy and moved to London about 10 years ago. I started my career in London at the Berkeley hotel at the Blue Bar. After that I moved to The Savoy, I worked for 5 years at the Beaufort Bar.
What inspired you to get into bartending?
The knowledge about products and about cocktails that many colleagues have, and also the hospitality fact.
How according to you has the role of the Bartender evolved, especially now during Covid times?
The bartender job is a constant evolution, now consumers have a lot more knowledge, especially after lockdown when people were trying to create cocktails at home. Now bartenders need to overcome this and try to always be better.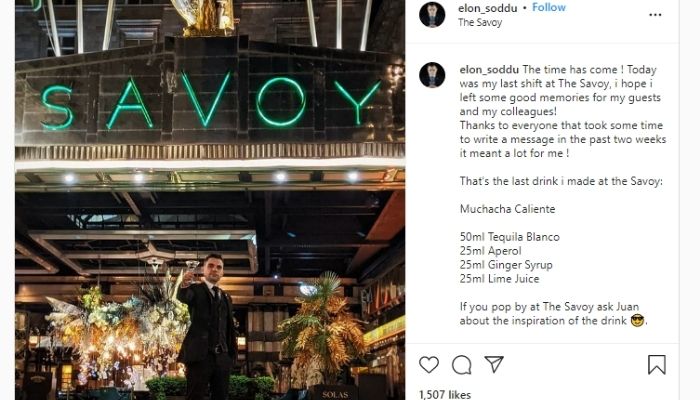 Elon Soddu, Former Head Mixologist at The Savoy and Former Head Bartender at The Beaufort Bar.
What are some of the most important skills for a bartender to have?
Knowledge in general and communications skills.
What do you look for when you plan to buy spirits for your bar?
Identity in the product itself.
What support programs work best for you from suppliers?
Not having too many commitments.
What cocktails and drinks trends do you see in 2022?
Definitely bottled cocktails and low abv.
What's the best part of your job?
Feeling proud when one of my colleagues achieves a goal.
What are your favorite TV shows right now? Or your favorite movie?
Squid Games.
If you had to pick one spirit as your personal best, which would it be and why?
Mezcal.
How are you marketing your bar to drive some foot traffic during covid-19?
I was not working much during Covid, I don't have an answer for this.
Any tips for new bartenders?
Read a lot of bar books, and find a good mentor.
What's the most underrated cocktail ingredient or spirit?
The one I have not discovered yet.
What are 4-5 challenges you face in your business and how do you overcome them?
At the moment I work only as a consultant, but I see that the bigger challenge at the moment is finding good bartenders to employ. And it is the responsibility of the Managers to train people to make sure that the service is delivered at the top of the guest's expectations.
What's your career goal? Where do you want to go and how are you working towards it?
I want to open my own bar.
Define a good Bartender according to you.
Someone who when you sit in front of him at the bar, makes you forget all your concerns of your daily life, and makes decent drinks.
What's an ideal bar drinks menu? What should it include and what profit metric should it try and achieve?
A menu should be easy to understand from the guest's perspective. In the past, it happened that I created a good menu concept with nice illustrations and crazy ingredients, but I could see how complicated it could be for some people to understand and try to order a drink. Keep it simple and elegant.